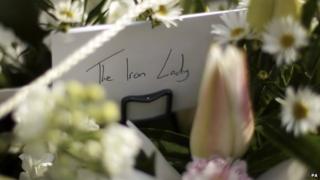 PA
Politicians and world leaders have been paying tribute to Margaret Thatcher, the first woman to become British prime minister, who died on Monday.
In a statement from Buckingham Palace, the Queen said she was sad to hear the news of Lady Thatcher's death and would be sending a private message of sympathy to the family.
Prime Minister David Cameron wrote his first reaction on twitter: "It was with great sadness that l learned of Lady Thatcher's death. We've lost a great leader, a great Prime Minister and a great Briton."
He went on to say: "She didn't just lead our country; she saved our country, and I believe she'll go down as the greatest British peacetime prime minister."
American President Barack Obama said that the "world has lost one of the great champions of freedom and liberty, and America has lost a true friend".
The Deputy Prime Minister, Nick Clegg, said she was "of the defining figures of modern British politics and whatever side of the political debate you stand on, I think no-one would deny she left a lasting imprint on the country she served as prime minister".
But while some people saw her as a hero, many other people disagreed with her ideas - and won't remember her as fondly.
The leader of the opposition Labour party, Ed Miliband, described her as "the crucial figure of that era", saying: "The Labour Party disagreed with much of what she did and she will always remain a controversial figure. But we can disagree and also greatly respect her political achievements and her personal strength."
Video: Who was Margaret Thatcher?
Thatcher's global impact was "vast", says former Labour PM Tony Blair. He said that very few people "change the political landscape of their country and the world".
London Mayor Boris Johnson wrote on twitter: "Very sad to hear of death of Baroness Thatcher. Her memory will live long after the world has forgotten the grey suits of today's politics."
Businessman and Apprentice star Lord Sugar tweeted: "Margaret Thatcher died today. A great lady she changed the face of British politics, created opportunity for anyone to succeed in the UK. RIP."
Pictures: Margaret Thatcher, 1925-2013
Celebrities have had their say too. Match of the Day presenter Gary Lineker tweeted: "Very few divide opinion like Baroness Thatcher. Loved and loathed in equal measure, but remembered by all."
Spice girl Geri Halliwell said: "Thinking of our 1st Lady of girl power, Margaret Thatcher, a greengrocer's daughter who taught me anything is possible...x"