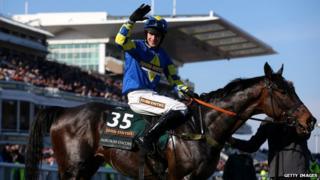 Auroras Encore took the world of horseracing by storm on Saturday by winning the 166th Grand National at Aintree.
It's the oldest horse race in the world and, arguably, the most famous!
The 11-year-old horse, ridden by jockey Ryan Mania, was a surprise winner with two of the favourites Cappa Bleu and Teaforthree finishing second and third.
17 of the 40 horses that took part finished the race but no horses died going over the fences.
Changes were made to the course this year to protect the horses from harm, after two were killed last year.