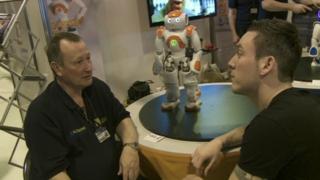 Watch Martin's report...
At Newsround we love to bring you news of all the latest gadgets you could be using in the future.
Every year thousands of people head to the gadget show in Birmingham to get a glimpse of what could be the next big thing.
The displays this year includes a flying jetski that uses pressurised water to send its rider high above the waves.
There's also a robot that helps teachers in the classroom.
We sent Martin along to the show to find out more... check out his report!