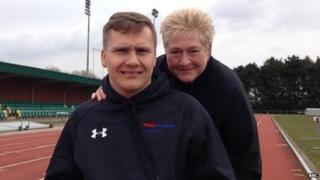 Six-time Paralympic champion David Weir and his coach Jenny Archer have launched a brand new academy to help find future Paralympic medallists.
The Weir Archer Academy will be based at the Kingsmeadow Stadium in Surrey, and will help athletes from all Paralympic sports in south London.
Training camps will also be run for young people and coaches up and down the UK.
"I want this to be my legacy," Weir said.
"There are literally thousands of potential athletes out there who are just waiting to be discovered and I want to help with that."
'Come and try it out'
The academy will be run as a charity so that athletes can get help with money to fund their training.
"From a wheelchair racer's perspective it can be a really expensive sport, with a chair costing between £2,500-£5,000 and the gloves are £100" Jenny Archer told BBC Sport.
"We want to have a selection of equipment readily available for young people to be able to come and try it out."