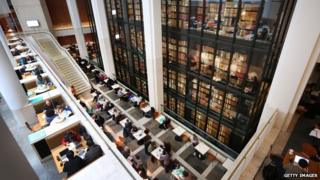 When you visit a library, you'd expect to be able to borrow a book, CD or a DVD. But how about borrowing an old web page or Facebook post?
The British Library is starting a project to store as much of the stuff on the internet as possible.
The archive will cover 4.8 million websites and will include news sites, blogs and even Facebook and Twitter!
It's thought around a billion pages a year will be available for people to look at.
It follows 10 years of planning. The National Libraries of Scotland and Wales, the Bodleian Libraries in Oxford, the University Library, Cambridge and the Library of Trinity College, Dublin are also taking part.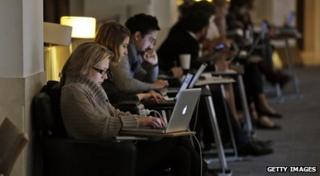 Making history
You may think that things that are on the internet last forever but, according to the British Library, huge amounts of research material has already disappeared.
It's hoped that having an archive of web pages will help people in the future find out more about life today.
The library's also asking for advice from the public as to which websites should be kept to give an accurate picture to future generations.
Your comments
"I would like Google to be saved because it helps me with my homework. I would also like YouTube to be saved because I can watch videos and listen to songs."
Amber, Corby, England
"I think they should save the One Direction webpage because then we can look back at what they have achieved... and plus I love them!!!"
Meghan, Edinburgh, Scotland
"In some ways this could cause arguments. If someone didn't know that their blog or Facebook is in a library for everyone to see, they may dislike it, and you would almost lose all your privacy."
Luke, Bristol, England
"I would like to put YouTube in the British library so people in the future will know what we liked to watch and so videos won't be lost."
James, London, England
"I would definitely keep the CBBC website, because on the Newsround web page I always find interesting facts and news."
Ethan, Barnsley, England
"I think they should save news pages and information pages so that people in the future can see the difference in the world from now to then."
Olivia, London, England
"I want Club Penguin, Webkinz and Moshi Monsters to be saved."
Rebekah, Hamilton, Scotland
"If I could save a website it would probably be NR or BBC Sport because I love the news and I could not live without football!"
Ryan, Greenock, Scotland
"I think it's a great idea because it will allow people to find out all sorts of interesting facts that happened in the past."
Ahrathy, Leicester, England
"It would be interesting to see how websites have changed and visit old news pages from the past."
Eleanor, England
"I think it is a great idea! I was on Blue Peter about 2 months ago and it has been taken off BBC iPlayer so I can't watch it again now. If it had been saved, I would have been able to keep it forever!"
Emma, Northern Ireland
"If I wanted to choose a website for them to save it would be Animal Jam because I LOVE ANIMAL JAM!"
Alice, Kettering, England
"It will help us understand how the internet has changed through the years, which is very handy."
Aaron, Kent, England
"I think it's a great idea because people could find out what life was like in the past. It's a step forward from books, and the web pages won't get damaged so it will be clear to the people of the future. But it could be invading people's privacy if the libraries are taking pages from Facebook or Twitter."
Peter, Bristol, England
"I would put the CBBC website into the British Library because I love Newsround and CBBC shows!
Amy, Kettering, England
"I think this would be a good idea. In the future people will be able to see what we were researching and how websites have changed."
Sian, Hull, England
"I don't really like the idea; although in time it may become history I don't understand why the libraries have to store it. It won't make a difference to the majority of us. What's the point of being able to look at Facebook data from a library?"
Amie, Leeds, England
"I would save Google because it knows everything you search for."
Hannah, Oxfordshire, England
"I think they should save pages about the news. These should be Newsround and BBC News."
Yosef, London, England