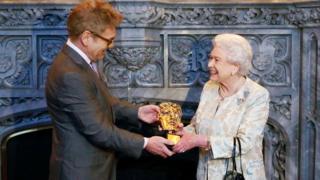 They're usually given to big name film and TV actors, but now a Bafta's been awarded to the Queen!
Her Majesty received the honorary award for her lifelong support of the British film and television industry.
Actor Sir Kenneth Branagh, who played Gilderoy Lockhart in the Harry Potter films, presented her with the prize in a star-studded event at Windsor Castle.
Of course, the Queen recently took part in a spot of acting as part of the Opening Ceremony of London 2012.
She appeared alongside Daniel Craig for a special James Bond sketch.
Bafta chairman John Willis described the Queen as "the most memorable Bond girl yet".