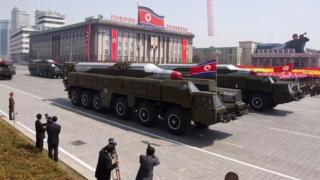 Watch Martin's report...
The US has announced it is moving a missile defence system to an island in the Pacific Ocean to protect itself from North Korea.
It's after a statement came from the North Korean capital Pyongyang, saying that its military had been given final approval to launch a nuclear strike.
Experts don't believe North Korea has the technology to mount an attack but US Defence Secretary Chuck Hagel warned that the country is a "real and clear danger" to the US and its allies.
North Korea has threatened to target the US and South Korea in recent weeks.
The US government said it would place an advanced missile defence system on the island of Guam as a precautionary measure.
You can find out more about North Korea, and why some people are worried about what's going on there, by reading Newsround's guide.