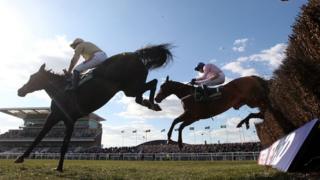 Saturday sees the biggest event in the horse racing season take place at Aintree... the Grand National.
It's been designed to challenge some of the best jockeys and racehorses in the world.
But since 2000, 11 horses have died taking on the course and some say the race is too dangerous.
In the last year, the race's organisers have made several changes to try and protect the horses taking part.
However, on Thursday a horse died in a big race for amateur jockeys over the new fences.
John Baker, one of the course's directors, said: "You can never remove risk from all horse racing, as with any sport. However, welfare standards are very high."
He added that incidents of horses dying "are rare."
To find out more about the Grand National and what's being done to protect the horses, keep an eye on Newsround's bulletins to watch Martin's report.