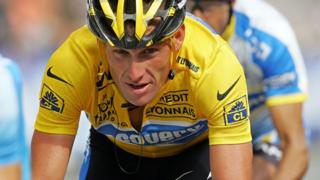 Disgraced cyclist Lance Armstrong has pulled out of a return to competitive sport.
He was due to take part in a swimming competition in America that starts tomorrow.
Armstrong was stripped of his 7 Tour de France titles and given a lifetime ban from almost all sporting events, after admitting he took drugs to help him win, while competing.
He was caught after failing a random test which found traces of drugs in his body.
Armstrong would have been allowed to take part in this particular swimming event, because it doesn't follow the same drugs rules as cycling.
It is very low profile and only open to older swimmers - the 41 year old will be one of the youngest competitors.
But swimming's governing body, FINA, objected, saying he shouldn't take part.