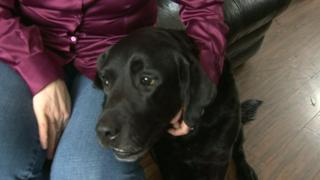 Watch Martin's report...
Guide dogs are the eyes for thousands of people with sight problems in the UK, but what happens when the dogs themselves go blind?
Newsround's Martin has been to visit seven year old guide dog Westley who developed cataracts - causing the lens of his eyes to become so clouded he couldn't see.
It was a real problem for Westley, and his owner Dorothy, who relies on him to keep her safe.
Watch Martin's report to find out more.