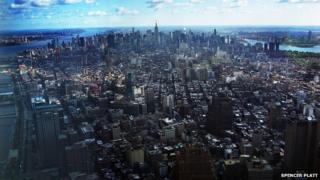 This is the view from the top of New York's newest and tallest skyscraper - One World Trade Center.
It's been built on the site where the twin towers of the World Trade Center stood before 11 September 2001 - a date often referred to as 9/11 - when a terror attack destroyed them.
When One Trade Center is completed, it will be 542 metres high and will be the tallest building in the Western Hemisphere - a geographical area which covers North and South America and the western parts of Europe and Africa.
The observation deck will be on floors 100 through to 102 of the tower which will offer 360 degree views of New York City.
Randy Levine from Legends Hospitality, the company that will run the observatory, said: "This building means moving forward from, without ever forgetting, the days of 9/11."
The observatory will officially open to the public in 2015.