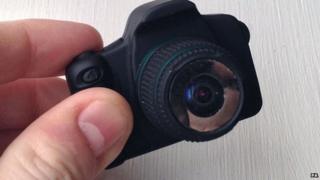 A student who built his own digital fish-eye camera to save money is now selling them to hundreds of people around the world.
Creator Greg Dash is a university student and keen photographer - and it all started when he wanted to buy a fish-eye lens for his camera.
It's a special type of lens but can cost hundreds of pounds.
So instead he made one of his own using old camera parts. It's 4cm long and 2cm high.
And to his surprise it attracted a lot of attention from other photographers who wanted one too - now he's got orders for almost 300!