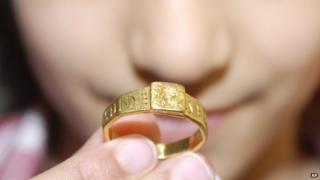 An ancient gold ring thought to have inspired JRR Tolkien to write The Hobbit is on show for the first time.
In 1929 an archaeologist is believed to have told Tolkien about the ring, which he thought was linked to an ancient Roman curse.
Tolkien was very interested in the ring and the story behind it.
Not long after he began writing The Hobbit, which was first published in 1937.
The ring was originally found in 1785 in a farmer's field in Hampshire and will now be on display in a Tudor house - the Vyne - which is also in Hampshire.