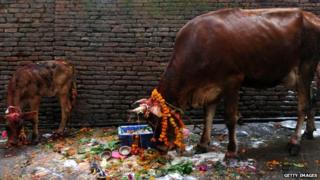 Police in Nepal's capital city have launched a campaign to round up cows roaming the streets, blaming the animals for car accidents and traffic jams.
Cows are treated as sacred in the Asian country, where most of the population are Hindu, and the animals are often found on the roadside.
In capital city Kathmandu police say there are often traffic jams because the drivers, who try to avoid the cows, often crash into other vehicles.
"The stray cows and oxen have been a big nuisance in Kathmandu streets. They not only cause accidents, but also make the streets untidy," said Pawan Giri from the city's police force.
He said the captured animals would be kept until their owners paid the equivalent of about £40 for their release.