Scientists from Salford University claim large amounts of white fish in Britain is labelled incorrectly and being swapped for cheaper types of fish.
They discovered seven per cent of cod and haddock - what you find in your fish and chips - was actually the cheaper pollock, or farmed fish from Vietnam.
Dr Stefano Mariani from Salford University is concerned consumers are being deceived: "Consumers should be able to go to a shop and know they are eating what they paid for."
Even though scientists say there's no serious health risk, Dr Mariani said it could be a problem for people with certain allergies if they don't know what they're eating.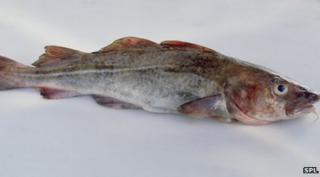 SPL
He wants tougher regulation and better labelling and is worried that if fish aren't labelled correctly, over-fishing of certain types could be harder to trace.
Mark Drummond, from the organisation representing fish and chip shops, also wants more accurate labelling.
He says it will protect the consumer but also the restaurants who are serving their customers honestly and not trying to cut costs through deception.