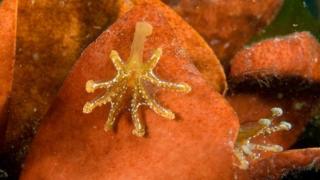 The government have said a lack of money is stopping them from protecting wildlife in the seas around England and Wales.
Campaigners had hoped that thousands of species of sea life could be protected by creating over 100 new marine conservation zones.
Originally 127 areas were picked to be protected but now it's thought only 31 will be created.
Each zone will have different rules about what is and isn't allowed at different times of the year, such as fishing.
It's hoped that the protection zones will help tourism and fishing industries, by protecting natural features that divers would like to visit and providing safe areas for fish to grow up.
Environment ministers say the country's current financial problems mean they haven't been able to secure as many areas as they had hoped to.
Jolyon Chesworth from the Wildlife Trusts said: "We are disappointed at the rate of progress. The government has an international obligation to protect wildlife in the seas."
Around the world just 0.6% of the world's oceans have been protected, compared to almost 13% of our planet's land area.