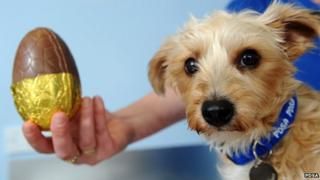 Easter eggs - yummy for humans but not good for pets, according to one animal charity.
The PDSA are warning owners to keep chocolate away from their furry friends this Easter.
They say the sweet stuff can be dangerous for them because some of the ingredients aren't safe for animals like dogs to eat.
Poppy, a puppy from Cardiff, had to be treated by vets after eating a whole Easter Egg.
Dark chocolate is the biggest risk for dogs as it contains the most theobromine, a safe ingredient for humans, which can be harmful for animals.
Elaine Pendlebury, who works for the PDSA, said: "Many pet owners love giving their pet a treat but are unaware of the dangers of chocolate.
"If you can't resist giving them a little Easter treat, make sure it is something pet-friendly, suitable and safe. A new toy or a nice long walk is a good alternative."