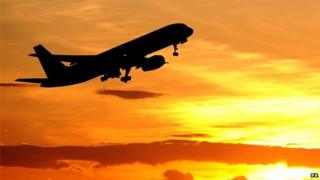 Thousands of us are expected to travel abroad for Easter after several weeks of unusually cold weather.
814,000 people are due to leave from Heathrow airport and Gatwick airport - and Scottish airports expect more than 100,000 departures.
The Association of British Travel Agents said there was "strong demand" for last-minute overseas holidays.
We asked you how you're planning on keeping warm during the Easter chill.
Your comments
"I am not going abroad but my grandma is coming from Hungary. Hopefully she will bring some sunshine from there!"
Anna, Woking, England
"My family and I are staying at home for Easter but one of my friends have gone to Miami for Easter to visit an uncle!"
Anne, Ashford, England
"Me and my 12 cousins are going to Menorca in Spain for one week. The funniest part is, our parents are really busy working so we get to go on our own! The oldest cousin is 26 though so we do have an adult with us."
Ellie, Ashia & Cousins, London, England
"I'm going to Egypt to travel and to get away from this cold weather!"
Jane, Wales
"I'm going to Disney land Paris! I'm going with my granddad and my aunt and her family, we have a house for ten with a big garden. Me and my cousins are planning to stay up all night. EPIC!"
Freya, Norfolk, England
"I was born in Pakistan but I have family in Cardiff so i have been here but I'm going back to Pakistan for Easter. It's about 37 degrees there!"
Maayal, Cardiff, Wales
"I am going to Malaysia this Easter with my whole family!"
Ayesha, Kent, England
"I'm staying at home for Easter but in the Easter holidays I'm going to watch three movies and go swimming!"
Christiana, London, England
"I am going to Worthing in the south of England to see my granddad. There is a beach and a swimming pool is being built. I can't wait to go!"
Bethany. Derby, England
"I am not going abroad but I am going to Cornwall, North Devon and then London!"
Maddy, Exeter, England