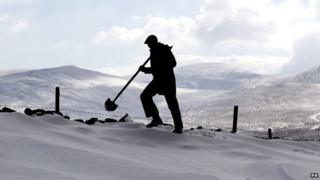 Weather forecasters are warning the freezing temperatures across the UK will last until mid-April.
Thousands of people in western Scotland are without power for a sixth day and further snow has caused difficult road conditions.
In Northern Ireland, RAF helicopters are delivering emergency food supplies to remote farms for a second day.
And thousands of animals are still thought trapped in snow drifts as farmers try to reach their livestock.
During the day at the moment, average temperatures across the UK are way below normal - at around 2-3 degrees Celsius.
That's 5-10C below the usual levels for this time of year.
The BBC weather centre said temperatures currently look set to remain below average until about mid-April.