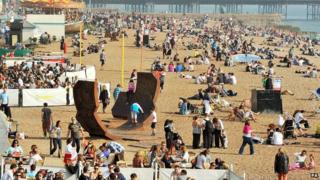 Last year's wet summer was bad for Britain's beaches, according to the Marine Conservation Society.
The charity say the weather led them to recommending less beaches for their excellent bathing water quality in their annual Good Beach Guide, compared to the year before.
They say it's because more bacteria and viruses were washed into our seas during heavy rain and flooding in parts of the country.
And swimming in polluted water can make you ill with ear infections or stomach bugs.
A total of 42 beaches didn't meet minimum levels expected for bathing water, a rise of 17 from the year before, according to the Good Beach Guide.
And only 403 of the 754 UK beaches looked at were awarded the top 'recommended' award for their water quality in 2012 - that's 113 fewer beaches than in the 2011.