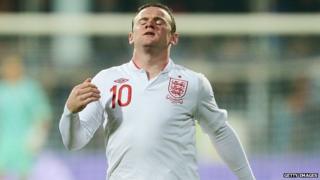 It was a bad night for UK footballers in their World Cup qualifier matches - Scotland, Wales and Northern Ireland all lost their matches and England only managed a draw.
England's path to qualification remains far from guaranteed as they drew 1-1 with Montenegro. It means England remain second in Group H with Montenegro still the group leader.
Scotland were beaten 0-2 by Serbia ending their chances of qualifying for 2014.
Northern Ireland lost 0-2 at home to Israel and Wales went down 1-2 at home to Croatia, conceding the winner in the 87th minute. The results mean both teams are in fourth place in their respective groups.