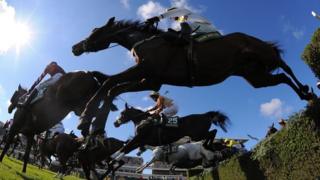 Jockeys in the Grand National horse race are being urged to keep calm at the start of the race.
This year's race on 6 April will have extra attention after two horses died in both the 2011 and 2012 races.
A note's been sent to all jockeys in the race by Aintree racecourse - where the race is held - and the Professional Jockeys' Association.
Riders are being told to "savour the day and together you can do your profession and our sport proud."
The Grand National's been criticised in the past by animal charities who say that it's cruel to the horses.
The course is over four miles long and involves jumping over 30 high fences - which can cause the horses to fall over, and that can lead to them breaking their legs.
Ten horses have died over the last 12 years of Grand National races.
Safety changes this year
Changes have already been announced for this year's race to make things safer.
The distance will be slightly shorter and the race organisers are changing the framework of the fences - which are covered in spruce branches - from wood to a softer, flexible plastic material.
Stats show that one of the causes of falls is competitors sprinting off at high speed at the start. On average, more than half the falls happen in the first 90 seconds of a race which lasts more than nine minutes.
But some people argue that the danger of the race is part of its appeal and that changing the rules could mean people don't enjoy it as much.