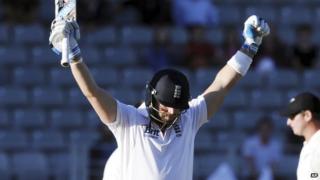 Matt Prior led a terrific comeback by England to achieve an unlikely draw against New Zealand.
On the last day of the final Test the England wicketkeeper hit 110 not out and Ian Bell made 75 to guide England to 315 for 9 at the close.
The resulting draw ensured that the three-match series ended locked in a 0-0 stalemate.
It also meant that England retained their world number two ranking.
Had they lost, they would have fallen to third place.