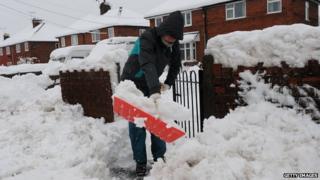 Thousands UK homes are still without electricity as snow continues to cause big problems across the country.
Engineers are working to bring back power to homes after four days.
But residents in some parts of Scotland and Northern Ireland have been told by energy companies that it could be several days before power is restored.
Despite the heavy snow giving way to just light flurries today, forecasters are now saying the severe weather could return on Good Friday.
Burning furniture to stay warm
Some people have been trapped inside their homes all weekend.
Incredible stories are starting to emerge from families who've had to go to extreme measures to stay warm.
One family with a young baby, trapped in their farmhouse in the hills near Wrexham in Wales, told of how they had to burn their own furniture to stay warm.
Dad Ben said: "We had no power, no electric for 24 hours.
"It got to the point where I just thought... we needed to try to get him [the baby] out to reasonable safety."
The family were rescued by RAF helicopter on Sunday.
Your snow stories
Have you been trapped? Do you have a dramatic snow story to tell?
Maybe you were in the car with your mum and dad and it got stuck. Or has your house lost power?
Let us know using the form below.
"On our way to swimming with my school our coach got stuck in the snow. We had to get a tractor to pull us out, while our head teacher brought us back in his car to school. Eventually another coach turned up to take the rest of us back to school."
Annabelle, Banbury, England
"We have had terrible snow around here. We have just got our electricity back and managed to move our car!"
Dion, Wrexham, Wales
You must ask your parent, teacher or guardian for permission before you send us a comment.
We may show your comment on this page or in our bulletins on the CBBC channel. We'll show your first name and which town you're from - but we won't use your details for anything else.