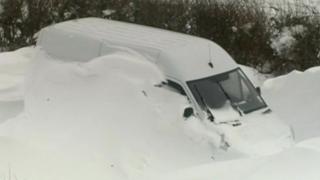 Vehicles buried in snow in Cumbria
Amazing video shows cars, trucks and vans completely buried under snow drifts in Cumbria.
Blizzard conditions overnight left many owners searching for their vehicles when they woke up.
Snow, sleet and rain have disrupted transport and power supplies in much of the UK.
Snow is falling across central and northern parts of the country and it is expected to spread to the South and South East of England.
More news stories