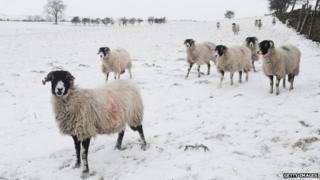 The bad weather that closed thousands of schools on Friday is set to carry on falling over the weekend.
Further warnings have been issued for snow, sleet and rain across the UK.
The Met office say a slow-moving band of the bad weather is covering the country and warn further snowfall is likely to accumulate on hills.
Some areas could even see a further 5-10cm of snow on the ground.
Send us your pics and tell us what you think about the weather
You've been sending us your pictures of the snow.
We want to see how you're enjoying the snow today. Are you building a snowman? Throwing snowballs? Taking your pets out for a walk? Grab a camera and send your pics to: newsroundpix@bbc.co.uk
We also want you to tell us what you've been doing in the snow and what you make of the crazy weather.
Your Comments
"I've started to dislike the snow. I only really like it when it snows in December as it feels all cosy but now we are in March it isn't as fun."
Jaden, Buckinghamshire
"The snow is so deep we had to dig our way to the rabbit so we could feed him."
Abbi, Staffordshire
"I don't like the snow because it is really cold. Luckily I'm having some hot chocolate and watching Newsround."
Caitlin, London
"I am loving the snow, I'm having fun with the dog and I don't have to go to school."
Cody, Grimsby
"I can't get out of my driveway. We have a snow pile outside blocking the whole road."
Victoria, Northern Ireland
"I love the snow but it's very hard to get from place to place as it is so slippery! I don't know how I'm meant to get to a swimming gala today."
Jemima, Herefordshire
"I'm having a snow ball fight with my dad whilst my brother is making a snow man!"
Alice, England
"I'm enjoying the snow by staying in my pyjamas and watching Newsround as the snow trickles down."
Katie, Bedfordshire
If you send us a picture, it may be published on the Newsround website, and some photos may be used in our TV bulletins. We'll use your first name and your home town to show that it's your picture; your personal details won't be used for anything else.
You must ask your parent, teacher or guardian for permission before you send us a comment.
We may show your comment on this page or in our bulletins on the CBBC channel. We'll show your first name and which town you're from - but we won't use your details for anything else.