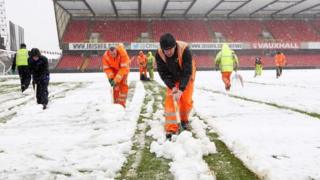 Schools have shut because of it and now the snow has prevented a big football match going ahead.
Northern Ireland's World Cup qualifier with Russia has been postponed because the pitch isn't good enough to play on.
Bradford City's League Two game against Bristol Rovers on Saturday is also off.
But football isn't the only sport that's lost against the weather - rugby league and horse racing are also in trouble.
Friday night's Super League game between Wakefield and Leeds was postponed.
Saturday's horse racing meeting at Kelso has been abandoned because of a waterlogged track, and a race meeting at Bangor has been called off because of snow.
More football matches over the weekend could also suffer as more snow is expected over the next 24 hours.