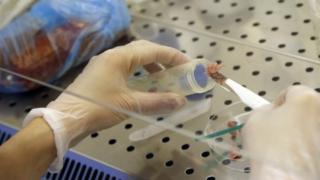 A 100kg bag of horse meat labelled as beef has been found at a food company in Preston in Lancashire.
Lancashire County Council have told the Food Standards Agency that the meat was imported from Hungary by a company called Hungarian Food Ltd.
Investigators found the meat on sale at the company's own market stall in the town, as well as at a shop called Taste of Hungary in Liverpool.
Around 40kg of the meat has been sold off in 1kg bags labelled 'diced beef', and the remaining meat has been withdrawn from sale.
The council is still investigating the meat and will be testing it for traces of a drug, which vets sometimes give to horses, called 'bute'.
Medical experts say there is a possibility the meat may be harmful to humans if it contains 'bute'.
The manager of the deli Taste of Hungary said he was shocked to find out the meat was horse meat and not beef.