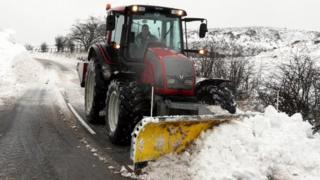 More than a thousand schools across the country have closed as severe weather hits the UK.
Forecasters say some places have seen between 20cm-40cm of snow and it could end being the coldest March for fifty years.
Some areas are also predicted to see 50-75mm of rain over the next 24-48-hour period.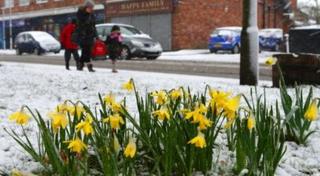 High winds have also been recorded in Wales.
50,000 homes in Northern Ireland have lost power.
And properties in south-west England have been flooded.
Drivers have been stuck in cars and Belfast and Leeds Bradford Airport have been closed.
Forecasters say freezing temperatures and snow could hit London over the weekend.
People are being advised to take plenty of warm layers with them when they leave their homes and to check travel reports.
Send us your pics and tell us what you think about the weather
You've been sending us your pictures of the wacky weather.
If the weather is going bananas where you are and there's loads of snow or floods outside your door grab a camera and send your pics to: newsroundpix@bbc.co.uk
We also want you to tell us if the wacky weather has landed in your area. Do you have snow or floods? Has your school closed for the day? What do you make of the weather this March?
Your comments
"The snow is really deep! A lorry jack-knifed and was causing a lot of delays. My dad got stuck on the way to work. Snow can be so annoying!"
Maisie, Shropshire, England
"I live in Huddersfield and in all the time I have lived here I think this is the worst. But the good side is that I have got a day off school."
Holly, Huddersfield, England
"It's really snowy outside and we are stuck inside. Luckily our school is closed and the forecast says it is going to snow tomorrow as well."
Azim, West Yorkshire, England
"Yesterday it was sunny and today I woke up cold!"
Libby, Manchester, England
"Our schools aren't closed, there is just loads of rain!"
Elizabeth, Devon, England
"Our school is not closed and it's so cold!"
Rebecca, Preston, England
"Our weather is so bad its made me ill."
Yvie, Torquay, England
"In Belfast there is 30 cm of snow where I am and I'm off school. We cant get out of the house. We have no electricity and the wind is howling constantly. Its just really annoying me."
Eireann, Belfast, Northern Ireland
"There's been snow everywhere, school hasn't closed but it's freezing cold."
Menina, Hertfordshire, England
"It's very wet down here and our house has flooded".
David, Plymouth, England
If you send us a picture, it may be published on the Newsround website, and some photos may be used in our TV bulletins. We'll use your first name and your home town to show that it's your picture; your personal details won't be used for anything else.
You must ask your parent, teacher or guardian for permission before you send us a comment.
We may show your comment on this page or in our bulletins on the CBBC channel. We'll show your first name and which town you're from - but we won't use your details for anything else.