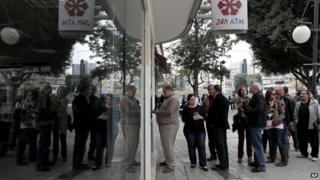 The government in Cyprus has dropped plans to tax the savings people have in their bank accounts.
The plan was originally suggested as a way to raise funds to help Cyprus get a loan from the IMF - an international organisation that lends money to struggling countries.
The country says it needs a loan of 10 billion euros (£8.7 billion) in order to tackle a financial crisis.
However, they can only get the loan if they can raise a certain amount of money from the country's own economy first.
People living in Cyprus were outraged by the plans to take money from their bank accounts and so they began trying to take all their money out.
They also held demonstrations across the island, pleading with the government to come up with another way to raise the funds.
The island's leaders are now looking at different ways to raise the money they need.
The country's banks remain closed though, and they are not expected to open until Tuesday 26 March.