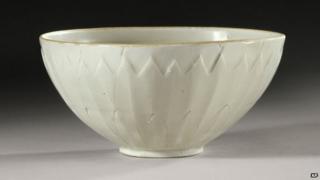 A Chinese bowl bought at a garage sale for a few dollars has been sold for $2.2million at auction!
It was bought in New York in 2007 for the equivalent of about £2 and auctioneers said it had just been left on a mantelpiece.
But the bargain buy turned out to be a 'rare and important' 1,000-year-old bowl from Northern Song Dynasty in China.
It's just been sold to an anonymous buyer for $2.2million - that's around £1.5million!
Only one other almost identical bowl is known of - which is on display at the British Museum in London.