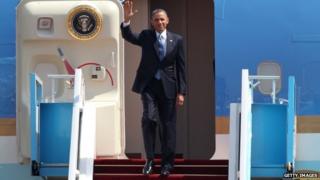 Barack Obama has arrived in Israel for his first trip there as US president.
He is due to meet Israeli Prime Minister Benjamin Netanyahu and Palestinian President Mahmoud Abbas during his three-day visit.
Thousands of Israeli and Palestinian security officers are on guard in Jerusalem, and Ramallah, which is in the north of Jerusalem.
Today the American president will meet with Benjamin Netanyahu, and tomorrow he will meet with Mahmoud Abbas.
On the final day of his trip he will visit Bethlehem's Church of Nativity before he heads off to Jordan.
A lot of people think this trip is important because Mr Obama was criticised for not visiting the country much sooner.
Reporters say the purpose of Mr Obama's trip is to improve relationships between his country and the Israelis and the Palestinians.