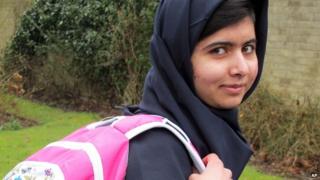 Malala Yousafzai, the Pakistani schoolgirl shot by the Taliban, has started attending school in the UK.
Last October, she was shot whilst on her school bus in Pakistan for her role in campaigning for girl's education in the country.
The 15-year-old was flown to the UK to receive medical treatment in a Birmingham hospital.
Having recovered from her injuries, this week Malala has started attending a girl's school in the city.
She said: "I think it is the happiest moment that I'm going back to school, this is what I dreamed, that all children should be able to go to school because it is their basic right."
Malala is staying in the UK after her father got a job in Birmingham.