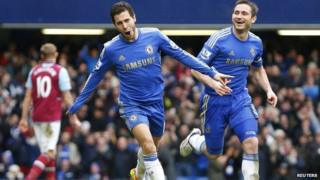 Frank Lampard's 200th goal paved the way for Chelsea's 2-0 win against West Ham, moving them into third place in the Premier League.
The Blues dominated the match at Stamford Bridge and took the lead in the first half when Lampard nodded in Eden Hazard's through ball.
Then early in the second half a superb strike from Hazard gave Chelsea's second goal.
The win meant they did a leap-frog over Spurs into third place in the tables.
Tottenham were also beaten 1-0 by Fulham.