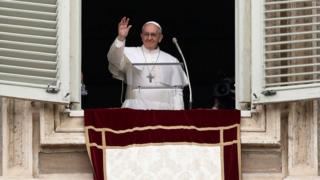 Over a hundred thousand people gathered in St Peter's Square in Rome to hear a prayer and blessing by the new Pope.
It was Pope Francis's second official public appearance since he was elected on Wednesday.
Straight afterwards, he sent his first tweet, saying: "Dear friends, I thank you from my heart and I ask you to continue to pray for me."
Earlier, he celebrated his first Sunday mass too.
He chose to attend a small, simple parish church in the Vatican, instead of the decorated St Peter's Basilica.
Pope Francis has said he wants the Catholic Church to be "a poor Church, for the poor".
At the end of Sunday Mass, he waited outside the church and greeted people as they left, asking many of them to, "pray for me".