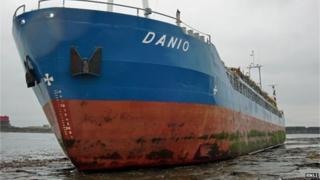 A large cargo ship which ran aground off the Northumberland coast on Saturday is still stuck.
Salvage crews are preparing a plan to rescue the 262ft (80m) Danish vessel.
They say if don't manage to move it on Monday, it might be stuck for another two weeks.
It's caught on rocks on the Farne Islands, which are home to protected sea birds and a large grey seal colony, some 3 miles (5km) from the mainland.
Rescue teams say they are working out the best way to get the ship off the rocks without it leaking fuel.
Ian Clayton from the RNLI said it would be a"big job".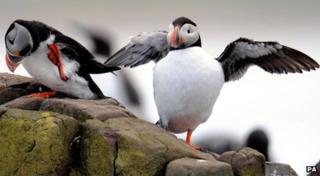 Oil leak worries
It was hoped the ship would be moved by a tugboat on Saturday, but crews decided to "take their time" and "prepare a plan".
The crew of six spent the night on board.
Mr Clayton said there were worries about possible environmental damage if oil started leaking from the vessel, but so far there have been no reports of leaks.