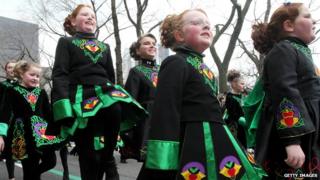 It's Saint Patrick's Day and we've been hearing what you're up to!
Thousands of people are expected to take to the streets of Dublin, Belfast and London where big parades are taking place.
Traditionally, people dress up in green clothes, and some even dye their hair green or wear green wigs!
It's also a hugely popular day in the US, where many people have Irish ancestors.
St Patrick is the patron saint of Ireland.
Your comments
"I am celebrating St Patrick's Day with my family. We will be wearing silly green wigs while we have a family lunch. My mum has even made a green meringue!"
Hannah, London, England
"I'm baking green flapjacks and I'm going to have a special dinner for Saint Patrick's Day."
Josh, Bedfordshire, England
"I am part Irish and I am speaking in an Irish accent all day."
Hannah, Barrow-in-Furness, England
"I'll be walking in the parade with the guides! Can't wait! Happy St Paddy's day!"
Sorcha, County Kildare, Ireland
"I'm dressed as a leprechaun and look really silly!"
Maia, London, England
"I had an Irish breakfast and I'm wearing green and a leprechaun hat. Later I'm going to a parade."
Kirsty, Moate, Ireland
"Yesterday my Irish dancing school did something called a Caleigh and I got to start learning a new dance. Then my family had Irish stew for tea."
Molly, Maidenhead, England
"My family and I are making green cakes and dancing to music!"
Kayleigh, Somerset, England
"I'm marching in a parade with my friends and after that I'm going to dinner with my family"
Sarah, Sligo, Ireland
"I'm dressing up all in green and painting my face all green too!"
Ellie, Barrow-in-Furness, England
"I will be celebrating St Patrick's Day because he is the patron saint. I will go to mass and then watch the parade."
Patrick, County Laois, Ireland
"Today is extra special because it's my birthday as well as St Patrick's Day. I'm having a tea party later."
Alexandra, Yarm, England
"I am doing a parade and I am the princess. I will be sat on a massive float and everyone is going to be there to see me."
Molly, Devon, England
"My family and I are putting up banners and balloons for St Patricks Day and we are going out to lunch."
Conor, Norfolk, England