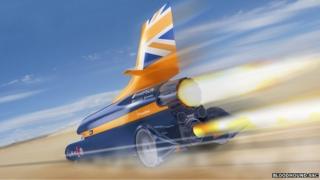 Work on a car that will be able to drive faster than 1,000mph is on track to finish in the autumn.
Bloodhound, which is being built in Bristol, is around one-third complete, according to one of its designers.
Dr Ben Evans, from Swansea University, said the £12m car should be ready for "low speed" tests in November.
When it's fully finished, Bloodhound will try and set a land speed record, aiming to smash through the sound barrier.
Dr Evans said his team had spent five years developing the car's aerodynamic shape.
To make it travel as fast as possible, the car has a fighter jet engine boosted by a rocket.