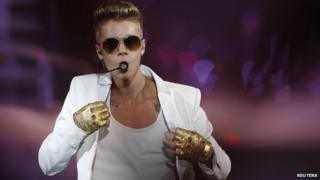 Justin Bieber has hit back at his critics, saying that "countless lies" have been written about him in the press.
It's after the global superstar faced a lot of coverage in newspapers, radio and TV programmes for being late to a UK concert, cancelling a show in Portugal, and having a disagreement with a photographer.
In a long message posted online, the 19-year-old singer said he had done nothing to deserve the negative press surrounding his European tour.
"Everyone in my team has been telling me, 'keep the press happy'," he said.
"But I'm tired of all the countless lies in the press right now. I'm a good person with a big heart."
'I'm gonna grow and get better'
Bieber added that he has worked really hard to achieve his success:
"All this isn't easy. I get angry sometimes. I'm human. I'm gonna make mistakes. I'm gonna grow and get better from them."
"I'm 19 with 5 number one albums, 19 and I've seen the whole world. 19 and I've accomplished more than I could've ever dreamed of."