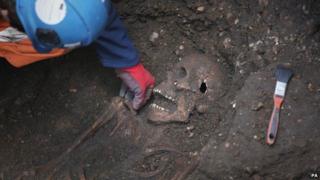 Excavations for a big new railway project in London have unearthed bodies believed to date from the time of the Black Death.
A burial ground was known to be in an area outside the City of London, but its exact location was a mystery.
Thirteen bodies have been found so far, as well as pottery dating from the mid-14th Century.
Archaeologists say that analysing the skeletons will shed light on the plague and its effect on Londoners of the day.