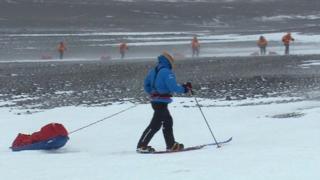 Ex-servicement talk of tough challenge...
Three teams of ex-servicemen have travelled to Iceland to prepare for one of the toughest challenges ever, a race to the South Pole.
Many of those taking part have been badly injured in conflicts abroad making the challenge even tougher.
Whilst trekking around 15 to 20km per day, the teams will endure temperatures as low as -45°C and 50mph winds.
They're aiming to raise money for the charity, Walking with the Wounded.
Duncan Slater, who lost both his legs while serving in Afghanistan said:
"I wanted to prove that after I had my prosthetic legs put on I could do something challenging. I wanted to prove to people that you can make a good recovery."
In 2011, Prince Harry joined four wounded ex-soldiers on a trek to the North Pole, raising millions of pounds for the same charity.
He's also hoping to join the British team heading to the South Pole this year.