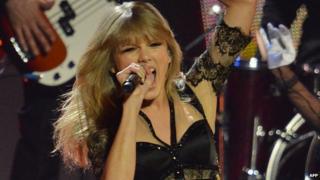 Unopened fan mail sent to Taylor Swift has been found in a recycling bin in Nashville, Tennessee.
Taylor fan Kylee Francescan was recycling her newspapers when she saw hundreds of letters addressed to the singer.
"I didn't know if they were stolen or discarded," she said. "I was like, 'Somebody needs to let Taylor know.'"
Kylee then forwarded them to a local TV station, who got in touch with representatives of the pop star.
'Mistake'
A spokesperson for Taylor Swift, who gets thousands of fan letters every day, said that a mistake must have been made.
"After the letters are opened and read, they are recycled."
"The only explanation... would be that a small batch of mail that was supposed to be delivered to Taylor was accidentally put with letters headed for the recycling centre."
Last year Taylor Swift scored the biggest first week sales for an album in a decade in the US with her fourth album, Red.