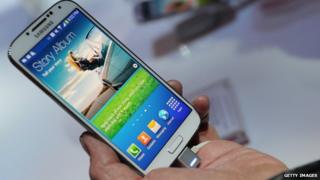 Samsung has launched a smartphone which allows people to control its screen using only their eyes.
The Galaxy S4 follows on from last year's S3, a phone that sold over 40 million units worldwide.
At a lavish launch event in New York, Samsung also showed off the phone's ability to take two different pictures at once.
The Galaxy handsets are seen as the closest rival to Apple's iPhone.
But experts reckon Samsung's future success depends on how the South Korean company plans to make other devices such as tablets.
The Galaxy S4 will be rolled out across the world at the end of April.