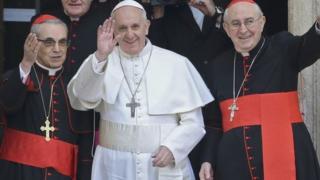 Newsround
Pope Francis I is beginning his first day as the head of the Catholic Church.
He will lead cardinals in his first Mass and start choosing the people he wants to work for him at the Vatican.
He may also visit Benedict, the last Pope, who resigned unexpectedly in February saying he was too old to keep going.
Pope Francis I was chosen as Benedict's successor by the most senior members of the Church after a series of secret votes.