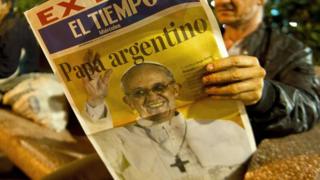 Who is the new Pope? That's the question on the lips of many people around the world!
Well here's Newsround's guide to the 266th man to become leader of the Catholic Church.
Pope Francis is 76 years old and was a surprise choice for the job as many people had expected the cardinals to pick a younger man.
Before becoming Pope he was known as Cardinal Jorge Mario Bergoglio.
Born in Argentina in 1936, he is the first South American to become Pope, and the first non-European in more than a 1000 years.
He's known to be a conservative Catholic, standing up for the traditional beliefs of the Church.
But he's also been outspoken about tackling poverty and criticising some countries for not paying attention to the poor.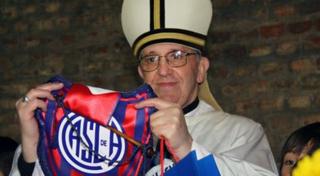 Five Pope Francis Facts
1. Pope Francis is the son of an Italian railway worker.
2. He's known for having a humble lifestyle, choosing to live in a simple flat and travel on the bus and underground to work.
3. He studied Chemistry before joining the Church and can speak three languages.
4. He only has one lung, after having one removed because of an infection. He is said to be healthy and in good shape.
5. Pope Francis is said to be a footy fan, supporting Buenos Aires team San Lorenzo de Almagro.