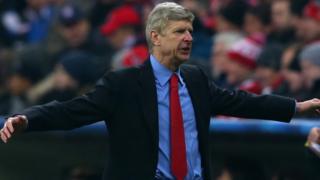 Arsenal boss Arsene Wenger says it is a "massive wake-up call" that no English clubs have reached the quarter-finals of the Champions League.
Arsenal were the last side standing and even though they beat Bayern Munich 2-0 in Germany on Wednesday, they lost on away goals.
It means the Gunners will end an eighth season in a row without a trophy.
"It's a massive disappointment for English football," Wenger said.
Reigning Premier League champions Manchester City finished bottom of their group, which featured Real Madrid, Borussia Dortmund and Ajax, after failing to win any of their six matches.
Chelsea, who defeated Bayern Munich to win the Champions League last season, also failed to get past the group stage, while Manchester United went out to Real Madrid in the last 16 stage.
"It's a long time since that happened," Wenger said. "We have to take that into consideration in the way we think about the future of the Premier League."
'Unlucky'
However, Bayern Munich boss Jupp Heynckes has tipped Premier League clubs to be back in the later stages of the competition again next season.
"I think Manchester United were unlucky to get knocked out and Arsenal showed what a quality team they are.
"You get cycles like that in football. I think the English teams will be back next year."