In a day full of fundraising and fun, celebrities and the public helped Red Nose Day 2013 raise a record £75m.
Thousands of people up and down the UK took part in crazy challenges to raise cash for Comic Relief.
You can read what some of Newsround's viewers got up to below.
The charity supports projects that help people in the poorest parts of the world.
Comedian Lenny Henry, a founder of the Red Nose Day fundraiser which is now in its 25th year, kicked off the live show on BBC One.
One Direction performed this year's official Red Nose Day single, One Way or Another.
And singer Jessie J shaved her head for charity!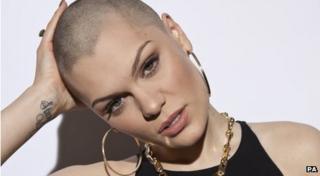 PA
Your comments...
"For Comic Relief me and my friend tied ourselves together (at the ankle and hip.) for the whole school day. Also my friend Alice stayed silent for the whole day. Which is amazing because she is a chatter box."
Chloe, Cambridge, England
"We all dressed in onesies and all the teachers recorded a Gangnam Style video. We did a sponsored silence and there was a cake stall. One person did a sponsored dance and danced solidly for one hour!"
Aimee, England
"I wore PJs for a week and today my school have been doing a day in PJs, some people are doing a silence and dunking their feet in beans too!"
Kira, England
"My class is doing a flash mob at our assembly to One Way Or Another by One Direction and the other classes don't know about it. We are also wearing red to school and each family gives a pound."
Reece, Airdrie, Scotland
"At my school we are soaking my teacher , having a cake sale and we get to wear what we like, its is going to be awesome."
Libby, Herefordshire, England
"I did a 40 km Bike Riding challenge with my friend and we have raised over £50. We got our inspiration from Helen Skelton and we wanted to help others less fortunate then ourselves."
Kate, Shropshire, England
"This year for Comic Relief I am eating only red foods and drinking only red drinks! So far I have raised £46.16!"
Katie, Hampshire, England
"Our school's trying to break the superman dance record, having a non-uniform day, and loads of stalls. It's going to be epic! I hope we raise loads for comic relief! Good luck to all at my school!"
Catherine, Cambridgeshire. , England
"We are wearing red, having crazy hair and every class has made cakes or biscuits to sell at "The Great Mandale Bake Off!"
Mandale Mill Primary, Stockton, England
"At school we're sponsoring our teachers who are all going to dress up in our uniform which is going to look really funny! My best friend and I organised a bake sale too so everyone can buy our cakes at break time! I can't wait!!"
Zara, Devon, England
"Our school are doing lots of activities such as a silent disco, a whole school Harlem shake, a sponsored fun run, cake sales and much more. We're also dressing up in red!"
Molly, Cornwall, England
"My sister and I are painting our noses red and wearing red clothes and we are watching Comic relief all night!"
Ellie and Georgia, Nova Scotia, Canada
"I did a sponsor silence for comic relief and earned £28.80."
Ellis, Bridgend, Wales
"Our school are having a Comic Relief 'Craaaaaazy Head' day! We are getting creative with our hair styles, hair accessories, including wigs and funky hats. We might also be making our faces look a bit craaaaazy with face paints!"
Burford Primary School, Oxfordshire, England
"We are doing a 'hooplathon' which involves spinning a hoop around your body as many times as we can in 10 minutes!"
Balfour Primary School, Brighton, England
"Our school is raising money for charity and having a cake sale."
Hena, London, England
"We are having a whole day full of fun and the school council is running the show! There will be cakes for sale, competitions such as world's best joke, design a new mascot, pick a nose. We are all dressing in red and we have a fantastic raffle! Lots of children are being sponsored for tying their legs together and being silent all day!"
Woodside School Council, Oswestry, England
"I am doing a swimathon for Comic Relief. I'm doing 60 lengths non-stop and have been sponsored £75 already and I hope it makes a change."
Joni, Manchester, England
"In school we are dressing up bright red."
Hannah and Alaw, Cardiff, Wales
"My school is selling red accessories like skirts, shirts, shoes, headbands, rubber bands, masks and pens and pencils on the streets and in our school. We are also holding a small red carnival at our school and putting red posters around the areas of the school. Everyone has to be dressed in red while coming to school this week. Seriously, our school has gone crazy about red!"
Molly, California, USA
"We are dressing up in 1980's costume, having a bake off and designing memorabilia."
Yearsley Grove Primary School, York, England
"We are having non uniform day for Comic Relief and we are all bringing in £1. 50p can feed a child in Africa for a day, so each of us could feed 2!"
Caragh, Douglas, Isle of Man
"Our school is dressing up and when I get home I am watching Comic Relief all night!!"
Mia, Southampton, England
"I'm wearing a red nose all day and to football."
Declan, Eastbourne, England