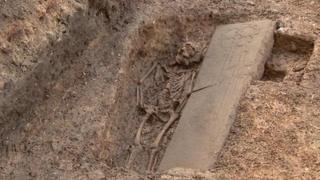 The remains of a medieval knight or nobleman have been discovered underneath a car park in Edinburgh.
Archaeologists were called to the building site after the grave was uncovered.
It was marked with an elaborate sandstone slab, with carvings showing a cross and ornate sword.
Evidence of a 13th Century monastery founded by Alexander II, who was King of Scotland between 1214-49, was also discovered.
The car park was being dug up to make room for part of a new building for Edinburgh University.
Richard Lewis, from Edinburgh council, said it was hoped more would be found out about the remains, but the grave had already been dated to the 13th Century.