Pope Francis has celebrated his first Mass since becoming head of the Catholic Church.
"I would like all of us... to have the courage to walk in the presence of God," he said.
Earlier, he greeted children and people on their way to work as he visited one of Rome's main churches, Santa Maria Maggiore, to pray.
He may now start choosing the people he wants to work for him at the Vatican, the Catholic Church's headquarters.
In the next few days he will visit Benedict, the last Pope, who resigned unexpectedly in February saying he was too old to keep going.
Pope Francis I was chosen as Benedict's successor by the most senior members of the Church after a series of secret votes.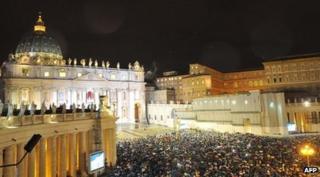 AFP
South American Pope
Before being announced as Pope on Wednesday he was known as Cardinal Jorge Mario Bergoglio, the former Archbishop of Buenos Aires in Argentina.
He is the first Pope ever to be chosen from South America.
Pope Francis I made his first public appearance on the balcony of St. Peter's Basilica in front of a huge cheering crowd.
The result came on the second day of voting by cardinals in Vatican City.
White smoke appeared from a chimney on the roof of the Basilica, signalling that the cardinals locked inside had made up their minds and chosen a new leader.
World reaction
As news of the Pope's election broke, Francis received messages from many world leaders.
UK Prime Minister, David Cameron said it was "a momentous day for the 1.2bn Catholics around the world".
American President Barack Obama said he was looking forward to working with the new Pope:
"As a champion of the poor and the most vulnerable among us, he carries forth the message of love and compassion," he said.