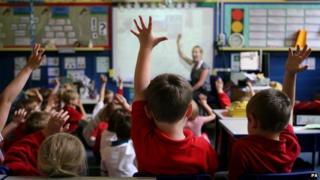 Hands up who gives to charity? A new survey suggests that primary school children give up to £20 million each year to charity!
This works out as each child giving around £2 of their pocket money to charities every month.
Children aged between 9 and 11 years old prefer to give to charities that help children and animals, according to the research.
The boss of the Charities Aid Foundation, who commissioned the poll, said it shows how children have a natural desire to help others.
He also said: "It's fantastic they are so keen to support the causes we care about."
The research was done ahead of a special report that will look at different ways children can help raise money.
Your comments
"I give £1 a week to help train guide dogs and I am a member of the RSPB. The church that I go to have also started up a food bank so my family and I give food to them as well. I also helped to organise a raffle and quiz at my school which me and my three best friends are doing. Every year, we make Christmas cards and sell them for Save the Children."
Hetty, Ashford, England
"I love giving money to charity and imagining who it would go to and help."
Fabian, Norwich, England
"I think that it is great that so many children across the country are doing so much for charity. I've adopted a jaguar and try my best to give money to both people and animals whenever I can. I've even climbed Ben Nevis for charity."
Mhairi, Inverclyde, Scotland
"I really want to get more involved in charity work so I am taking part in a Rianbow Wig Karoke on Friday for Red Nose Day with my friend Jessie."
Rosie, Alton, England
"I've always given my pocket money to charity and I think that those primary school children should be really proud on what they raised. I'm in high school now but still donate and take part in charity runs."
Melody, Manchester, England
"I am in secondary school but I am a member of the RSPCA and RSPB and I support the WWF. I would like to get more involved in a charity that raises awareness of Coeliac Disease, a condition I have."
Leila, London, UK
"I like giving money to Animal charities as they need a lot of help. I think animals are just as important as humans."
Amy, Southgate, London
"I always give up my pocket money for charity!!"
Owen, West Kilbride, Scotland
"When I know of any sponsored events I am always keen to raise money. For example I am raising money for red nose day and I am running for the race for life."
Maisie, Portsmouth, England
"I usually donate our old books and toys to the PDSA and Barnardos. And yes, I would give up my pocket money for charity because there are other people who need it more than I do."
Anna, Ashford, England
"I do give some of my pocket money to charities. I give to Comic Relief and Sport Relief once a year. I sponsor a dolphin once a month. This year I'm hoping to get more involved with a charity that helps people with the illness I have. I think it's really good that children alone have raised around £20 million! It shows that some of us are not just living in our own little bubble of comforts."
Amie, Leeds, England